Introduction:
Welcome, today we will talk about some of the most amazing tech inventions in 2016-2017! As we know, 2016 was an amazing year in terms of different inventions that would change our daily lives, but there's more! The CES 2017 has also offered amazing incetions to the world.
L et's start by looking to the world's first smart theater! It is able to turn your wall into a theater in seconds! With it's 700ANSI lumens brighter and clearer it can project the screen of any modern device (android & apple devices) onto your wall. Just connect it to your Wifi and you're good to go. It also supports the latest social networks such as Youtube or Netflix to stream from! Or it can simply project the screen of your smart device which is a great future for playing mobile games on a big screen! It comes with an unbelievable stereo which offers great sound quality.
Moreover it has 3d touch which enables control without even touching the device. It can project in 3d too! Your games will be even better when playing in 3d mode! Z4 Aurora is also very quiet when operation so you won't even hear it when listening something. It supports various connection interfaces such as USB, HDMI and AV. It is a simple, smart and affordable, very different from other projectors…
2. BreadBro
Do you like artistic things? Are you a designer? Are you creative? This tool is a must have if you're one of those who want to express their selves through technology. Make your dreams become reality with this advanced tech gadget. It is in fact a specialised breadboard that is fully compatible with the Arduino software. Make your own peace of hardware to create amazing things. Make your own programs and learn while you're enjoying your time! Don't want to search and find somebody to learn you how to program? No problem, Breadbro comes with it's own learning system! It is a great gadget that you can use while learning coding in Code In Green!
D o you always forget your wallet in places? Did you ever found out that there was some money missing in your wallet? How safe is your wallet? You already know that everything is becoming encrypted in our lives for maximum privacy, did you ever imagine how it would be to encrypt your wallet? Here it is! The Code Wallet offers maximal security of your wallet by securing it with a 3 digit PIN code . It offers a tracking system to know weather someone has your wallet of if you have lost it somewhere. It is also guarded with RFID blocking technology which makes your credit cards safe from any kind of electronical contact. The lock is made out of metal for maximum reliability. By fitting up to twelve cards in it, there will be no limitation of your space.There will not be any matter of security of your wallet anymore!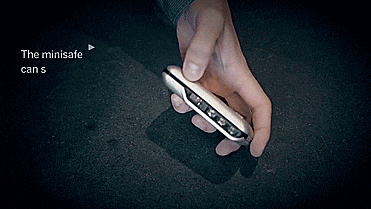 D id you ever mind of transforming your old normal TV into a giant touchscreen? Well yes, it is possible with the new touchjet! TouchJet transforms, once successfully setup your TV into  touchscreen.  It can make you stream any movie and is in fact a new screen for your TV. You can see news, listen music, browse the social media, play all of your favourite games and use any android app! It is adaptable to any environment; friends? family? work?! It can be used to control smart devices in your home too!
D id you ever mind to have one gadget that does everything? Well Flic is THE simplest gadget up to this date. It is a handy wireless button that can pretty much do everything. In your home, you can switch on and off all the light with the click of one button! In your car, you can make a safer call by pressing the button and without even getting your phone out of your pocket! It is in fact a shortcut to anything that normally do in minutes. On the go, Flic can also we used as a security device by sending a GPS location, distress signal or even make a phone call. It uses the Bluetooth technology flexibility to contact any electronic device.
BONUS:
Here's a great article about the different ways technology improves your life!
Comment what YOU would prefer between these amazing life changing gadgets! Share if you want more!